A few years back I dumped the maps and compass for a GPS, well not entirely, I did have a compass in my pack as I headed out on a deer hunt in Northeast Minnesota. If anyone knows this country they know north of Duluth, MN one hundred miles is about as true a wilderness area as you will find in the eastern USA. It can be many miles between roads up here. To make a long story short. I hunt deer up here the old fashion way. Cut a big track in the snow and follow him till you either catch him moving or in his bed. Shoot fast, aim well and you have your buck and a long drag to a road. Screw ATV's they wreak havoc in the woods.
I parked about eight miles from camp. Sat for a while and soon got tired of that. Decided to head back to camp using the GPS to guide me looking for a big buck track, I knew the logging roads and I knew where camp was so what could happen?
Late in the afternoon after about 6 miles of creeping through the bush I decide to make a B-line for camp two miles away through the woods since sundown was getting close. What I didn't know was that there was a river between me and camp. We use a wall tent with a stove for the week that we spend there. I headed in the right direction, found a river blocking me(GPS didn't show that BTW), crossed on a beaver dam and took a few steps after crossing the dam, and sunk to my chest in loon shit, aka, very thick muck, quicksand like stuff. Five minute later I was laying on my back and out of breath from working my way free, soaked to the bone in 25 degree temps(thank god for wool longjohns, keep you warm when wet.) The woods were so thick the GPS would not work and batteries were getting low anyways. Pulled out the compass, I new the road was north of my position. Followed the compass to the logging road and hit it just at dark. Got back to camp and changed into dry clothes.
I'll admit, I made many mistakes that day, leaving my regular hunting area without telling anyone, going into a floating spruce bog(bad joojoo),but my biggest mistake was leaving the quad map back at camp. Having that would have saved me a very dangerous and scary situation. Now I always carry map, compass (sometimes two),and GPS plus extra batteries. I carry a full survival pack with me with food, three ways to start a fire(matches, lighter and magnesium stick), tinder, space blanket, water and food, but leaving the map damn near cost me my life. I may have not survived the night out there. It was snowing, wet and cold, always a bad combo.
Technology is great and I love everything that come with it, sat tv, quick internet, GPS and everything else, but when the fecal matter comes in contact with rotary oscillator give me a map and compass please.
Just my 2 cents
Oh, BTW..here are few pics to show what I was talking about.
Living room wall, a couple big bucks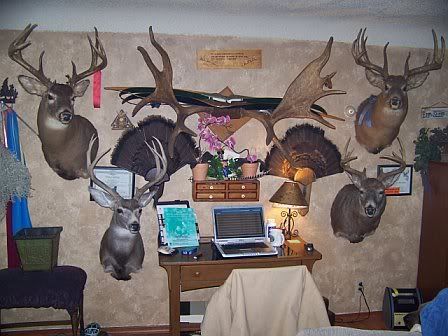 wall tent, it's huge, 15 x21 feet
meatpole with friends
river that damn near killed me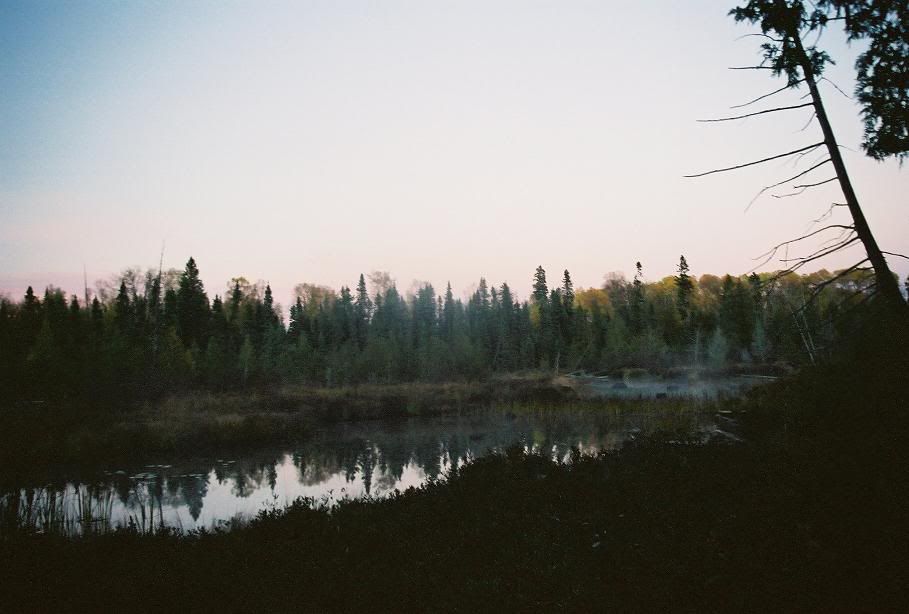 kinda long and rambling, but thats my story