Discussion Starter
·
#1
·
looking to sell (10) 5.45x39 un opened spam cans 1080 rds per maybe.. $200 a can, and buyer pays shipping/if your close just pick it up?? im seeing them sell for more on other sights, i think theyr the 7n6 ammo that whoever banned or something?
not sure, if someone could help me out with that, i believe theyr the metal caseing laqure coated ones with.. red(?) paint by the primer..
, because im planning on moving from Minnesota to Seattle, and want less shit to carry/ move there, might be adding some parts kits up as well, depending on how well things go for this post.(sg43-romy stamped 47s- bunch of random country aks.. oh yeah, some milled zastiva 7.62's with the original barrel)
wont send to any state that reguar ammo sights wont send too as well.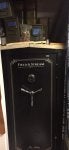 safe is a feild and streams 24 (?) gun safe with original papers, i mainly want someone to just help me get it out of my house, lol.. ill help load it as much as i can, i do have a 2/4 wheel dolly which is how it got in here, in the first place, was a dicks sporting goods black friday purchase maybe..... 5-6 years back? iv been the original owner of it since then, and it hasnt moved and inch since i had some friends help me move it in. Thank you, everyone for looking.
PS: i leave for a week long camping trip to the BWCA, and will follow up immediatly with anyone when im back, in order of first come first serve